Rhino for the Marine Industry
Rhino is a powerful 3D modeler for design and fabrication. Rhino uses accurate NURBS surfaces to help model any aspect of a vessel. Its flexibility lets you create your design in many different ways and does not lock you into one predefined approach, so that it may be used in all phases, from schematic design work to fabrication details.

See the process of design and fairing…
Accurate Surface Design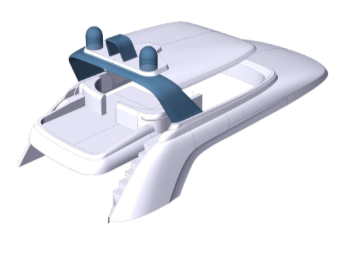 Jonathan Quinn Barnett
Rhino's intuitive surface modeling tools let you model the most complex surfaces accurately. Rhino's unique ability to join surfaces into solids is key to surface modeling flexibility with solid model accuracy.
Model using accurate NURBS geometry.
Visualize changes in realtime.
Rhino includes tools to analyze fairness and curvature.
Full sets of training materials, videos, and support available.
Download a full functioning 90 day evaluation version…
Used for Engineering
ExpressMarine
Rhino serves as a basis for many marine-specific plugins that add specific feature sets. The plugins supported by naval architects and marine experts allow you to build up the analysis tools needed in your work.
Waterlines, station automated generation.
Intact Hydrostatics and stability.
Planing characteristics.
Material and Cost module.
Power and speed calculation.
CFD calculations.
Export to existing engineering tools.
Compatible with Downstream Process
Rhino integrates with industry-standard suppliers. Rhino supports many file import and export types.
Rhino files are accepted throughout the industry for fabrication and engineering.
Convert to export types, including 2D drafting formats DWG, DXF.
Compatible with standard engineering formats STEP, Parasolid, ACIS, and over 30 IGES types.
See the many applications available…
Visualize the Design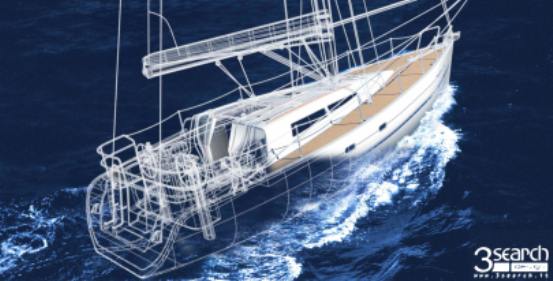 3Search Design
Rhino is a great tool to visualize your design solutions using illustrations or photorealistic renderings. Use renderings to sell your work without the expense of building prototypes. Rhino supports many popular rendering plugins.
Advanced display for realtime rendering.
Multiple illustrative display modes.
Make images 2D for illustrated graphics.
Multiple view layouts.
Works with popular graphics products for output.
See how to use Rhino to visualize…
Straight to Fabrication
Rhino models are accurate to manufacturing standards. Cut plugs, molds, and plates directly from Rhino output files. Carver Yachts, Delta Marine, and PDQ Yachts credit Rhino with direct influence on the quality and accuracy of their finished boats.
Output accurate geometry for fabrication.
Export accurate 2D drawings.
Prepare files for CNC cutting.
Use scaling tools to help build design models and mockups.
Flexible exports allow for a wide range of builds.
Drive advanced robots for custom automated fabrication.
SeaXplorer Luxury Ice Breaker by Damen.
85 m Offshore Patrol Vessel designed by Kvaerner Masa Marine Naval Architects & Marine Consultants. Modeled by Juan Carreras, Advanced Digi-Design.