Reverse Engineering, 3-D Digitizing, and 3-D Scanning - New in Rhino 5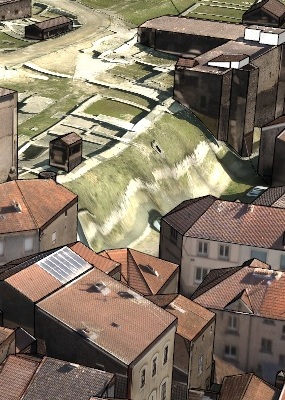 Capturing existing 3-D data is often one of the first steps in a design project. Rhino has always directly supported both 3-D digitizing hardware and 3-D scanned point cloud data. Rhino 5 has enhanced support for:
Large point clouds. 3-D scanners have become faster and cheaper, making huge scan files more common. Rhino's 64-bit support and enhanced support for graphic co-processors has made it possible to work with these large point clouds.
LIDAR captures 3-D terrain data for agriculture, archaeology, conservation, geology, land use planning, surveying, transportation, plus wind farm, solar farm, and cell tower deployment optimization. Rhino 5 added robust support for plug-ins, such as RhinoTerrain, that provide specialty tools for these new Rhino users.
Romer Digitizer - Added support for the right button on Romer Infinity digitizer.
DigLine -

New command:

When a point is picked with the digitizer, a line is drawn starting at the probe tip and ending a specified distance in the direction of the probe.
64-bit support means being able to work with large point clouds without running out of memory.
Increased accuracy of objects far from the model origin.
Support for Leica Cyclone .pts file has been added.