3D PDF Exporter for Rhino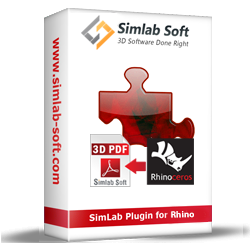 The new version of SimLab 3D PDF plugin for Rhino, is based on new capabilities of SimLab Composer 2013 and includes the following enhancements:
1- New: Template designer, enabling users to create templates that can be used to export customized 3D PDF files.
2- New: 64 bit support to handle very large and complex models.
3- New: Embedding in HTML, user can include the generated 3D PDF in automatically create HTML to make it easy to share 3D PDF files in the web.
4- New: Merging multiple PDF files, the plugin includes a new tool for merging multiple PDF files. Users can use the merge feature to merge a company's front page –in PDF format– with a 3D PDF model.
5- New: Floating license support, ready to support teams of Rhino designers.
6- New: Command line integration, GUI free mode to enable scripting the process of 3D PDF creation inside Rhino.
7- New: Open After Export, the 'Open file after export' option, makes it easier for the user to view the generated 3D PDF file without searching for it.
8- Enhanced: Better 3D PDF illustration mode, with the new illustration viewing mode, share your models in a new better look, showing details like never before.
9- Enhanced: Better control over the generated 3D PDF file size, By utilizing Rhino's Render Mesh, the user has control over the size of the generated 3D PDF file.
To download a version which is compatible with Rhino 5 please visit this link for Rhino 64-bit and this link for Rhino 32-bit.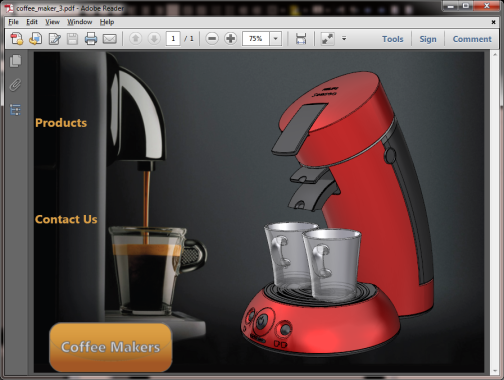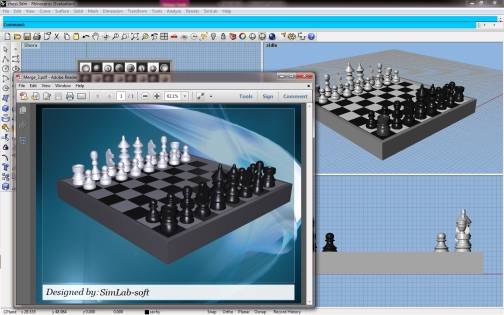 Contacto:
Ashraf Sultan, Simulatuion Lab Software

Opiniones de clientes
Puntuación media basada en 5 comentarios
550 de 1045 personas consideran que el comentario es útil
Excellent utility
4/11/2010
de 'Ori' de Ori
Sim lab's 3D PDF exporter is quick and easy to use. Exporter larger builds/models takes a little time, but works nonetheless. The render modes are great, as is the lighting tools. I have been using this more and more as a presentation tool and am very satisfied.
3 de 11 personas consideran que el comentario es útil
还可以,有缺陷
11/7/2012
de 'Anonymous' de Anonymous
好是好,为什么装了这个后其他插件不见了呢,导入其他文件许多格式也不能用了
56 de 128 personas consideran que el comentario es útil
Eval Lic
10/17/2011
de 'Jeff Friesz' de Jeff Friesz
Unable to receive the evaluation key.
15 de 51 personas consideran que el comentario es útil
Ok, but files too big
2/28/2012
de 'Matt' de Matt
Great concept - but the resulting PDF files are pretty big, it seems about the same size as the rhino file that made them. This becomes a real issue if you want to email them. A few hours work on Rhino has produced a 28MB file that exports to a 28MB PDF file. There do not seem to be any options (eg mesh options) to reduce size. Another nice facility woudl be selecting what to PDF. At present it selects all your work, except layers that are off. The size is the major issue for me though
312 de 1119 personas consideran que el comentario es útil
3D PDF Exporter
3/2/2010
de 'Eric Bunn' de Eric Bunn
I was a little skeptical after seeing the inexpensive price for this plug in but it exceeded my expectations. 3D PDF files are the perfect way to communicate your 3D designs to your customers.